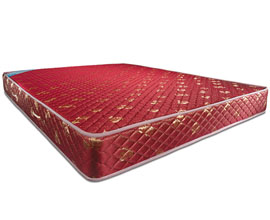 Product Details
These mattresses are a blend of Form Sheets of natural latex and rubberized coir. The durability of the mattress is guaranteed due to its manufacturing technique. The mattress having very strong blend of PU Foam on top and bottom stays on its shape due to the sidewalls. The sidewalls are reinforced to make the mattress dimensionally accurate.
Coir Blocks made of Coconut Fibre, form the core of Rubberized Coir Mattresses pioneered by companies such as Kurlon. The coir block is layered with U Foam and Cotton Quilting, for additional comfort and longer life. While being healthier and natural, the Coir provides firm support to the back and spinal area. Higher the density of Coir, the better is the support and longer will be the life of the Mattress. For density options, kindly browse through our mattress calculator and choose the appropriate product for your family.
Natural latex is created from the sap of rubber trees specifically planted and maintained for latex and rubber production. These trees are tapped to create a regular and sustainable resource akin to maple syrup harvesting. The end result is a type of mattress support that doesn't require the use of dangerous and toxic chemicals to create a long-lasting and always-springy bed.