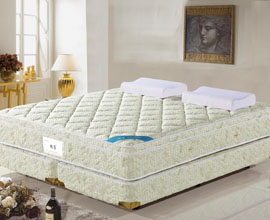 Product Details
A Mattress containing a cage or continuous spring unit is essentially the foundation for a good mattress. Pocketed Spring Mattress is one of the best you can buy. Pocket springs are individual springs contained in a calico fabric pocket, totally independent of the springs that surround it. Therefore, virtually eliminating roll together as your body is only using the springs that it needs
The Benefits of Pocket Springs
Spring mattresses currently come in one of two types of broad technologies – continuous coil or pocket spring. As the name would suggest, a continuous coil mattress is made up of row after row of coil running from the top of the mattress to the bottom. Pockets springs are the exact opposite. They are individual coils which are packed tightly together and held in place by a very high density foam boxed edge which encases the entire spring system.
There are many benefits of a pocket spring mattress. Let's start with the most popular which is the minimising of partner disturbance. 'Partner Disturbance' is what we in the bedding industry call the movement that is created across the mattress when you or your partner toss and turn or get in and out of bed during the night. It is the most common complaint we get from our customers and can seriously impact on the quality of you or your partner's great night's sleep!
Due to their individual coil construction, pocket springs inherently absorb this 'movement' directly underneath the sleeper instead of spreading it across the bed. When couples lie on a pocket spring mattress, the reduction of movement is one of the first benefits they experience.
Another key benefit of a pocket spring mattress is contouring to your unique body shape. Again, due to their individual coil construction, each pocket spring within the mattress (there are approximately 660 in a standard pocket spring queen size mattress) is responding to the pressure applied to it when you lie on it. This results in the mattress conforming to your unique body shape, while also providing your spine with sufficient support. A pocket spring mattress can deliver the ultimate 'sleep solution' of comfort AND support.
Here at Sleepy's we are very lucky to have within our range two of the most advanced pocket spring systems available in Australia. The first of these is our Australian made pocket spring system which is found within our exclusive Chiropractic endorsed Spine Align range. This is the first entirely Australian made spring system that Sleepy's have ever carried. The wire within the springs is even Australian made in Newcastle by Onesteel, so you can truly support an Australian made product when buying this fabulous range!
The second advanced pocket spring system which we have at Sleepy's is the Contempo 'dual pocket'. Every pocket spring within the mattress contains an outer and a smaller inner 'joey' pocket. This dual pocket spring system has all the benefits of a traditional pocket spring with the addition of extra support which the 'joey' pocket provides. This allows this type of spring system to be fitted to sleepers of a heavier build. It is also an ideal fit for couples of very different shapes and sizes as the dual pockets will respond accordingly to a heavier or lighter weight.
As mattress experts, we recognise that pocket springs are a great solution for a large proportion of sleepers. They deliver the adequate support required for our spines, as well as that all important comfort.
Come visit us at your nearest store to experience a pocket spring mattress for yourself!