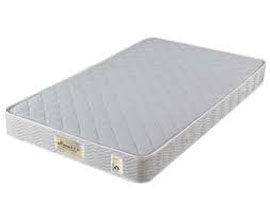 Product Details
Bonnel spring mattresses have been in demand consistently because of its numerous advantages. Made from spring unit, the customer is given option to choose from harder or softer ones. Based on the number of springs in the mattress, the quality of the mattress could be judged. Affordable, lightweight and easier cleaning Bonnel spring mattresses are fast moving mattress our showroom.
The Bonnell spring is the classic Spring Unit, and has, through the years, proven its worth. It is made from around hourglass shaped springs which are tied together to form a mat. A round helical crosswise connects each single spring to a spring unit.
Different thickness (gauge) of wire in the springs makes a harder or softer mattress. The lower the gauge, the firmer the mattress. The number of springs per mattress type is one of the key quality characteristics of a bonnell spring mattress.
These mattresses are characterized by a basic Bonnel Spring frame. The frame is covered with a Rubberized Coir sheet and a host of materials like High Density Rubberized Coir , Cotton Felt and PU Foam, to accentuate the comfort offered. The models are furnished with exquisitely designed quilts crafted from imported fabric. A superior product with natural latex topping on Bonnel Spring support, the Latex Top spring gives the body essential orthopedic support